Birth Defects From Zika More Far-Reaching Than Thought
02 May 2017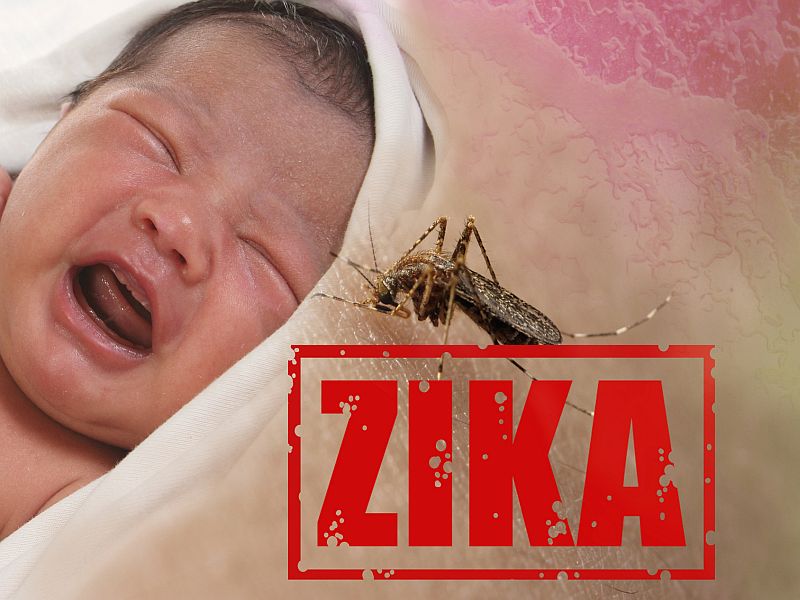 Studies found greater prevalence than believed, more neurological problems cropping up months after birth
Zika's ability to damage the infant brain may be even more far-reaching and insidious than previously thought, two new studies suggest.
One study found that 6 percent of infants born to Zika-infected mothers in the United States had one or more birth defects related to the mosquito-borne virus. Meanwhile, a Brazilian study found 46 percent of babies of infected mothers in that country developed birth defects or died.
The author of the U.S. study said many of the U.S.-born babies may still be diagnosed with birth defects as they approach the age of 1, since evidence has shown the virus can continue to damage a baby's brain after birth. The Zika outbreak first struck Brazil in April 2015, while the United States did not start reporting Zika infections until 2016.
The devastating birth defects caused by the Zika virus -- such as microcephaly, where the infant is born with a smaller-than-normal head and an underdeveloped brain -- can develop as early as the first trimester. However, the damage can also begin in the second and third trimesters of pregnancy. And, even when the infant appears normal at birth, signs of Zika-related problems can show up months later, researchers said.
"These include brain abnormalities with and without microcephaly, neural tube defects and other brain malformations or eye abnormalities and deafness that can happen from damage to the central nervous system," explained Margaret Honein, lead author of the U.S. study. She is chief of the U.S. Centers for Disease Control and Prevention's National Center on Birth Defects and Developmental Disabilities.
One of the problems with Zika is that a woman can be infected but not know it, because she has no symptoms, Honein said. Regardless, the proportion of infants with birth defects was similar for pregnant women who had symptoms and for those who didn't -- about 6 percent in each group, the researchers found.
That report was published online Dec. 14 in the Journal of the American Medical Association.
Analyzing data from the U.S. Zika Pregnancy Registry, Honein and her colleagues found that among more than 400 women possibly infected with Zika, 6 percent had infants with one or more birth defects related to Zika. Among women infected in the first trimester, 11 percent had fetuses or infants with birth defects, which is consistent with previous estimates, Honein noted.
The 18 infants who developed microcephaly accounted for 4 percent of the infants with birth defects. This percentage is substantially higher than the percentage of microcephaly in the United States overall, which is less than 1 percent a year, Honein said.
She added that the U.S. findings should take into account reports in Brazil that infants of infected mothers can show slowed head growth and microcephaly months after birth. It is possible, therefore, that more infants in the U.S. study will develop birth defects before they reach the age of 1, she said.
"We are learning more and more every day about the level of risk," Honein said. "But we still have more to learn."
In the second study, published Dec. 15 in the New England Journal of Medicine, researchers found that among Brazilian women, birth defects or fetal death occurred in 46 percent of 125 pregnancies of women infected with Zika, a higher rate than previously thought.
These defects can start anytime during pregnancy and show up months later, according to lead researcher Dr. Karin Nielsen. She is a professor of clinical pediatrics at the David Geffen School of Medicine at the University of California, Los Angeles.
In the Brazilian study group, nine fetal deaths occurred in the women with Zika infection during pregnancy, five of whom were infected in the first trimester.
Fetal death or abnormalities occurred in 46 percent of babies from Zika-positive mothers, but in less than 12 percent of women not infected with the virus, the researchers found.
Among the infants of mothers infected with Zika, 42 percent had microcephaly, brain lesions or brain calcifications, lesions in the retina, deafness, feeding difficulties and other complications, the study found.
"This means that microcephaly is not the most common congenital defect from the Zika virus, and that the absence of that condition does not mean you have a normal baby," Nielsen said in a statement. "There are problems that are not apparent at birth. The newborns may appear to be normal, but they may not be normal at six months, and there's a whole gradient of problems."
Based on that, a woman's risk for an abnormal pregnancy if she has Zika approaches 50 percent, Nielsen said.
"These are sobering results," she added.
The risks of birth defects occurred at all stages of infection during pregnancy: 55 percent in the first trimester; 51 percent in the second trimester; and 29 percent in the third trimester, the researchers found.
Dr. Bill Muller is an associate professor of pediatrics at Northwestern University Feinberg School of Medicine in Chicago. He said, "The observations support the recommendation to screen all pregnant women who may have been exposed to Zika." Muller co-authored an editorial that accompanied the U.S. study.
"Women who have traveled to an area where there are mosquitoes spreading Zika should be screened for infection. Women who are pregnant should avoid traveling to places where Zika is spreading, or if they absolutely have to, should be very cautious about avoiding mosquito exposure," Muller said.
Also, because Zika can be spread between sexual partners, if a male partner of a woman has traveled to an area where Zika is spreading, the couple should use condoms to prevent Zika infection in the woman, he added.
"Delaying pregnancy until eight weeks after a woman returns from an area with Zika, or six months if a male partner has traveled to an area with Zika, can minimize the risk of abnormalities in a baby," Muller said.
More information
The World Health Organization has more on Zika.
This Q & A will tell you what you need to know about Zika.
To see the CDC list of sites where Zika virus is active and may pose a threat to pregnant women, click here.
SOURCES: Margaret Honein, Ph.D., M.P.H., chief, National Center on Birth Defects and Developmental Disabilities, U.S. Centers for Disease Control and Prevention; Bill Muller, M.D., Ph.D., associate professor, pediatrics, Northwestern University Feinberg School of Medicine, Chicago; Dec. 14, 2016, statement, University of California, Los Angeles; Dec. 14, 2016, Journal of the American Medical Association, online; Dec. 15, 2016, New England Journal of Medicine
WEBSITE SOURCE: https://consumer.healthday.com/diseases-and-conditions-information-37/zika-1007/birth-defects-from-zika-more-far-reaching-than-thought-717807.html